Look who made an appearance this weekend!
Maxwell Moose!
Some families stayed Thursday through Sunday. Others booked Friday to Monday. But all in all, we were full this weekend! A big wave to everyone who joined in the fun!
The weather was nice . . . there were even kids swimming in the pool and the lake yesterday!
This little guy marched in our Pots and Pans Parade Saturday with the noisemaker he made at Arts and Crafts. Look at all his red, white and blue!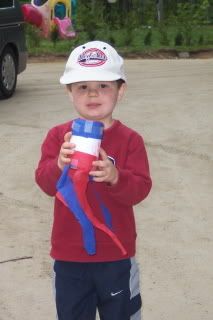 We also had the water balloon slingshot out both Saturday and Sunday. One young man won two ice creams! He told me it was his favorite part of the weekend.
Other activities included volleyball, a teen ping pong tournment, horseshoes, bubble play, storytime, movies, whiffle ball, jewelry making, hayrides, kids games, ceramics and Trash Bag Theater . . .
Here's the five casts with the props they were randomly given. I'm told they created some un-for-gettable performances!
Next weekend . . . an Ice Cream Party with pot luck Toppings …  Yum!