How often do you hear the kids say this during summer vacation?
In July and the first three weeks of August, we have recreation everyday, all day! Each week, my recreation directors and I go over the schedule, tweaking it here, and adding stuff there, until it's just right for the themed weekend to come. So I never know in advance exactly what we'll be doing, but here's a sample based on this weekend's theme, Chinese New Year Weekend:
Friday 6/27
9:00am Story Time in the Office Circle – come read stories with Maxwell Moose!
10:00am Bocci – a fun game for all ages – On the bocci court next to the playground
11:00am Bubble Play at the Rec Hall
1:00pm Arts and Crafts at the Lake – we'll make Chinese "Junque" boats and float them
2:00pm Penny Hunt at the lake
7:00pm Adult Bingo in the Rec Hall – a dime a card – prizes!
7:00pm Pool Tournament in the Game Room – 12 and up
Saturday 6/28
9:00am Cartoons in the Poland Spring Room
9:30am Kids Games in the playing field – all ages
11:00am Water Balloon Slingshot in the playing field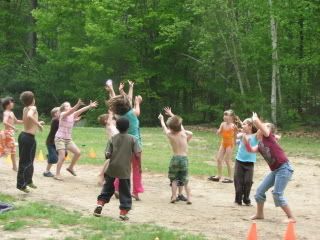 12:30pm Arts & Crafts – in the Rec Hall – come make lanterns and dragon hats
1:00pm Horseshoe Tournament – ages 16 and up – we draw for teams
1:30pm Chinese New Year Scavenger Hunt – meet at the Rec Hall – teams of two
1:30pm Jewelry making for teens – ages 13 and up
2:30pm Chinese New Year games – at the Rec Hall – fun for all ages!
3:30pm Hayrides through the campground – bring your dragon hats – Maxwell Moose comes out to play!
7:00pm Trash Bag Theater at the rec hall! For all ages!
Each person brings one prop to put in the pile. These are randomly distributed . . .
8:00pm Come watch the dramatic Theatre performances!
Sunday 6/29
9:00am Storytime and a snack with Maxwell Moose
9:30am Ceramics by Paulette's Ceramic Studio. Pieces start at approximately $10
10:00am Stickball in the playing field – ages 8 and up
10:00am Volleyball on the court – ages 12 and up – must be able to serve over the net
11:30am Bubble Play outside the Rec Hall
1:00pm Arts & Crafts in the Rec Hall –
2:00pm Ice Melting Race – meet at the Rec Hall