Tami here with the Fiesta Weekend report:
What a blast! Debbie and Bryant played South of the Border Games, had story time with a chocolate mousse snack, tossed horsehoes, played bean games, had a penny hunt, then made sombreros and maracas at Arts and Crafts
Of course the highlight of the weekend is our big Fiesta Party in the playing field Saturday night. We had carnival games . . . like throwing darts at balloons
Pin the tail on the donkey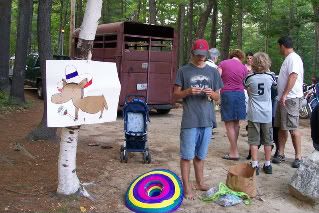 Getting a tattoo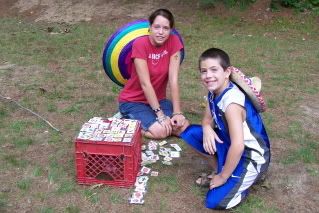 and the jumping bean game.
There were rides by Ricco Suave the donkey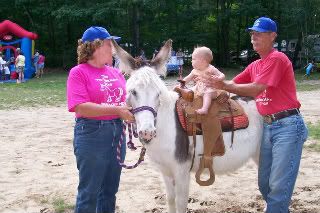 and the bouncy house was a huge hit as always.
Once Maxwell heard all the fun, he begged his handler to bring him to the party too!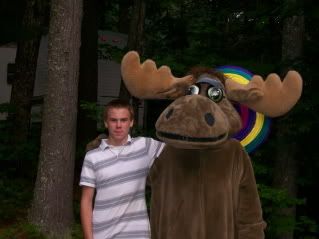 Debbie made fried dough for the very hungry party goers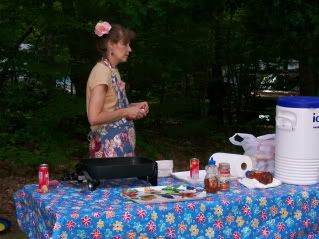 While Bryant helped the kids crack open the hand made pinatas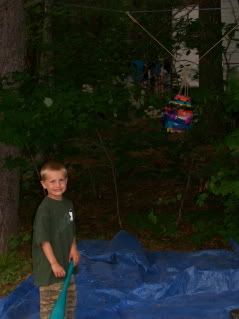 It takes a lot of volunteers to run a party like this one . . . so I'd like to take a minute to really thank everyone who helped! We couldn't do it without you. And even though I know we worked some of you so hard, you dropped where you stood . . .
I'm sure the kids enjoyed every minute of our Fiesta celebration! Don't you think so Maxwell?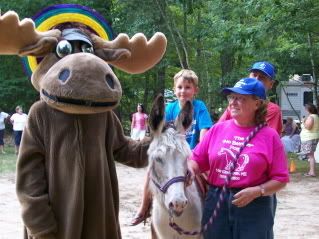 Especially this little guy, who just had to show me all his prizes from the games, and the candy he broke out of the pinata
We still have spaces for week stays in August, and even a couple of sites to book by the month. But you should call fast, because the phone has been ringing like crazy. The upcoming theme weekends are Medieval Weekend, with the magic of the Steelgraves on Saturday night; two weekends of Halloween, Super Hero Tryout Weekend and Labor Day.
September and October is a little lower key, but beautiful. Warm days, and cool nights. The call of the loon and great fishing . . . to find out more about our off season rates, give us a call.