On the schedule today was story time, water balloon volleyball, ceramics, adult volleyball, capture the flag, darts tournament and ice games!  My favorite thing was making noisemakers for the
Labor Day Parade!
There were pin wheels . . .  Red, white and blue streamers . . .  Patriotic hats . . .
Debbi handed out some wicked loud whistles that had all the parents cringing
And then they were off to circle the campground!
I'm not sure how the little one below slept through it all.  You could hear this parading crew from the lake!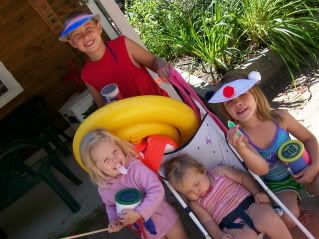 It was a great, end-of-the summer weekend!  There were times when Tami and I thought we were seeing double . . .
And there were lots of cute moments too –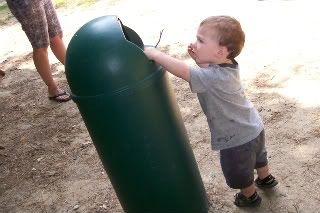 (I always wondered how the campground stayed so clean!)
But now our recreation program is done for the summer.   Sigh.
While Tami, Debbi and Bryant are busy planning the theme weekends for 2009, you can still enjoy some quiet fall camping, you know!  Cool, crisp nights, the call of the loon, friends toasting marshmallows with friends . . .
Fall camping can be a lot of fun!