Opening weekend at our campground came and went, with plenty of campers checking in to help us rake and clean up the campground. Campfires blazed at night, kids road bikes and played on the campground together after the long winter.
Tami just blah-blah-blahed the whole time with the campers about how many eaglets we had this year and whether or not the loons were nesting yet.
Everyone went home on Sunday, and when Friday rolled around, they all returned. Tami went out to check on the eagles while I played with the kids and helped Debbie and Brooke plan our summer recreation.  Suddenly Tami went running by with her camera.
"Hey-" I called. But she was gone!
I followed her, thinking she'd seen a snapping turtle laying eggs. Or a chickadee nest. Or an oriole's hanging nest.
But it was none of those things. It was a pair of Great Horned Eaglets!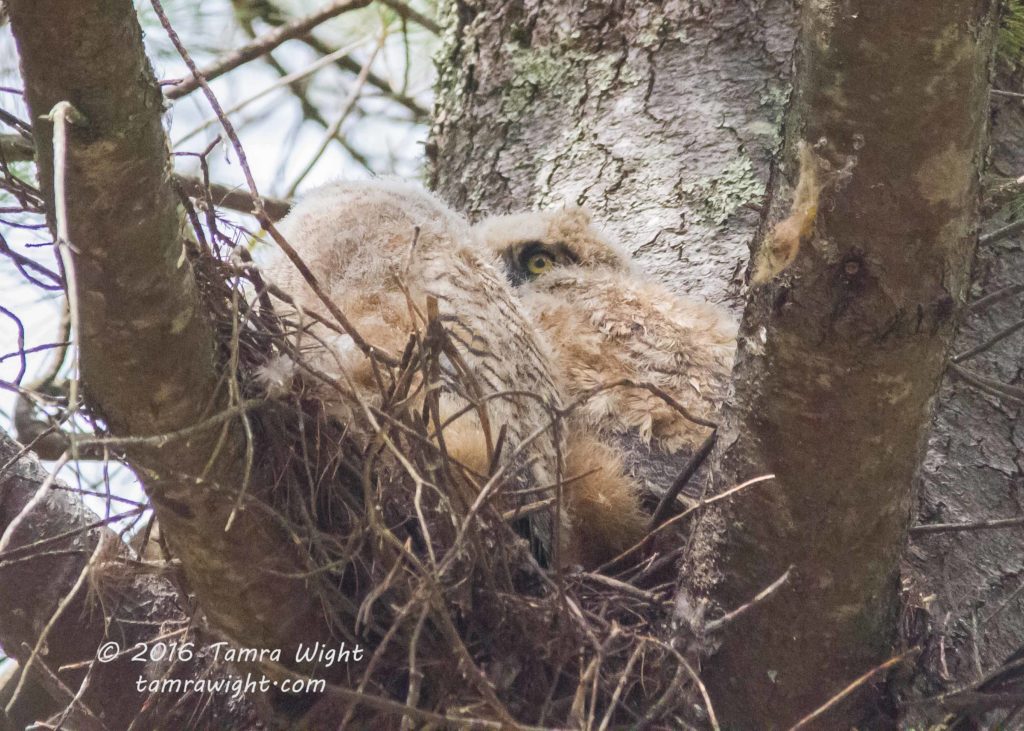 Twenty six years Tami and Dave have owned this piece of property. Tami used to tell me how she walked around the campground always looking up – and tripping over tree roots – trying to catch a glimpse of an owl nest. But she could count on only one hand the number of times she'd spied an owl.
Our campers only saw this pair because a piece of the nest fell, and someone  looked up to find these adorable owlets looking back at them. They never heard a peep or a hoot the weekend before. Owls can be silent. Very silent.
The day was gray, but Tami took picture after picture after picture. David thought she'd never come home!  They she researched Great Horned Owls into the early morning hours. She talked for days and days and days about them!
It turns out, their nest disintegrating is normal. And they rarely return to the same place to nest again.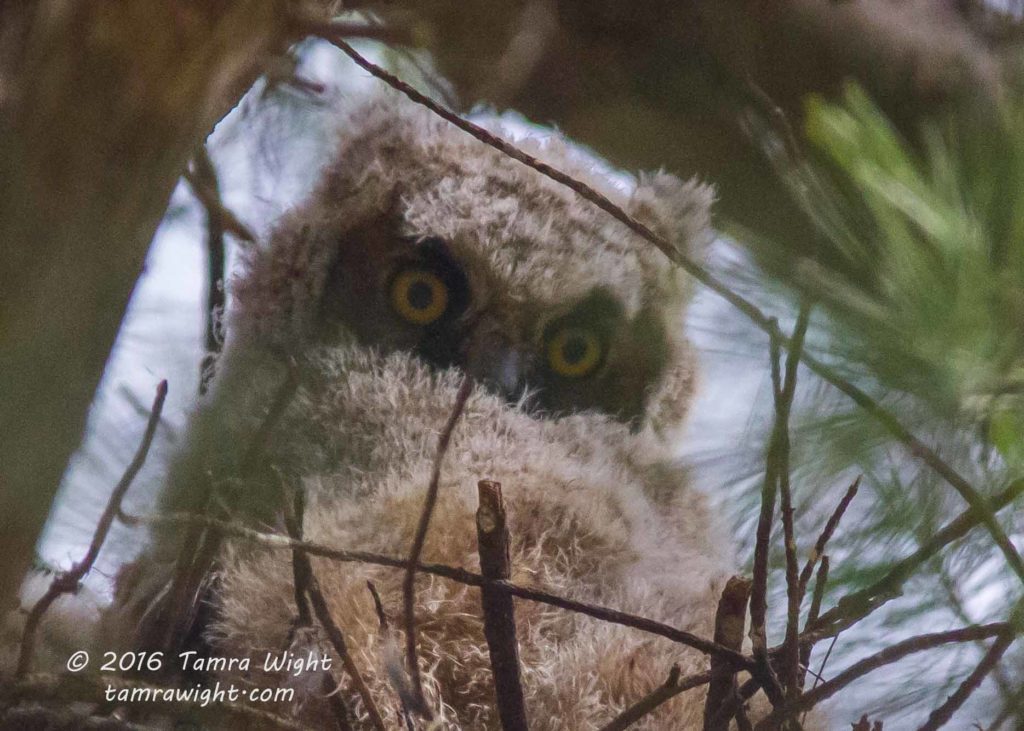 The next morning, one of my little campers came to the office with her phone. She'd woken up and looked out her camper window to find one of the owlets on the ground looking up at her!  Again, Tami did research and found that owlets on the ground is not necessarily a bad thing either.  This helps them strengthen their leg muscles, and their beaks and talons will help them climb to a new perch.  The best thing we can do, Tami told her, was to keep our distance.
(That owlet hasn't been seen since, but I believe I've heard it)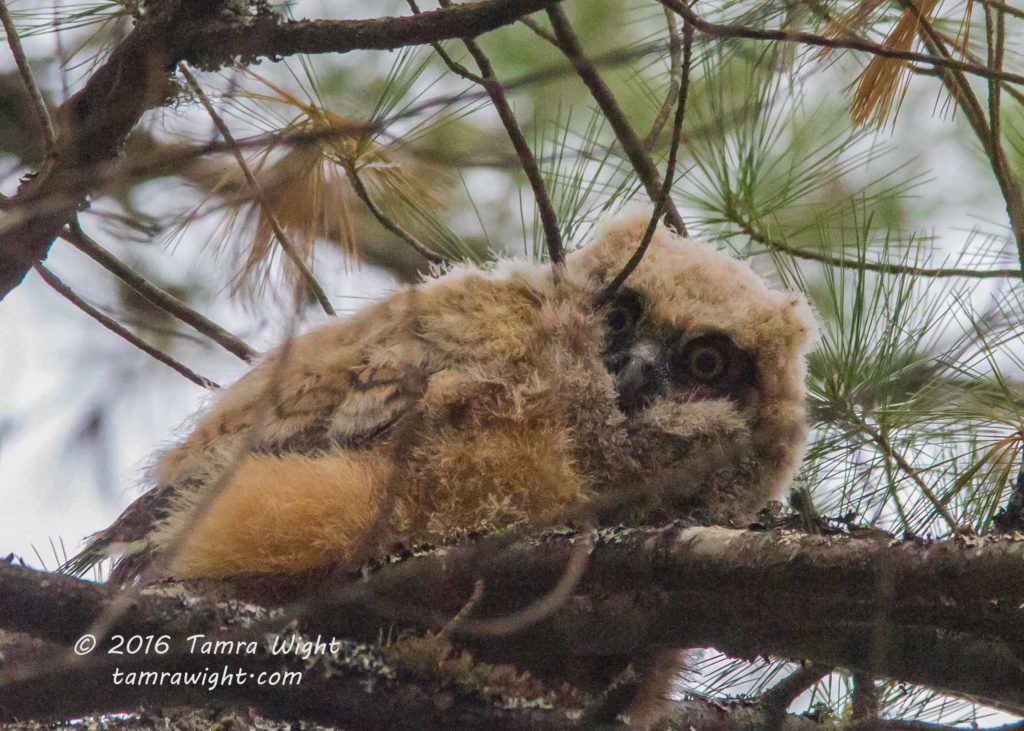 The owlet left in the tree started branching, venturing further and further from the trunk of the tree.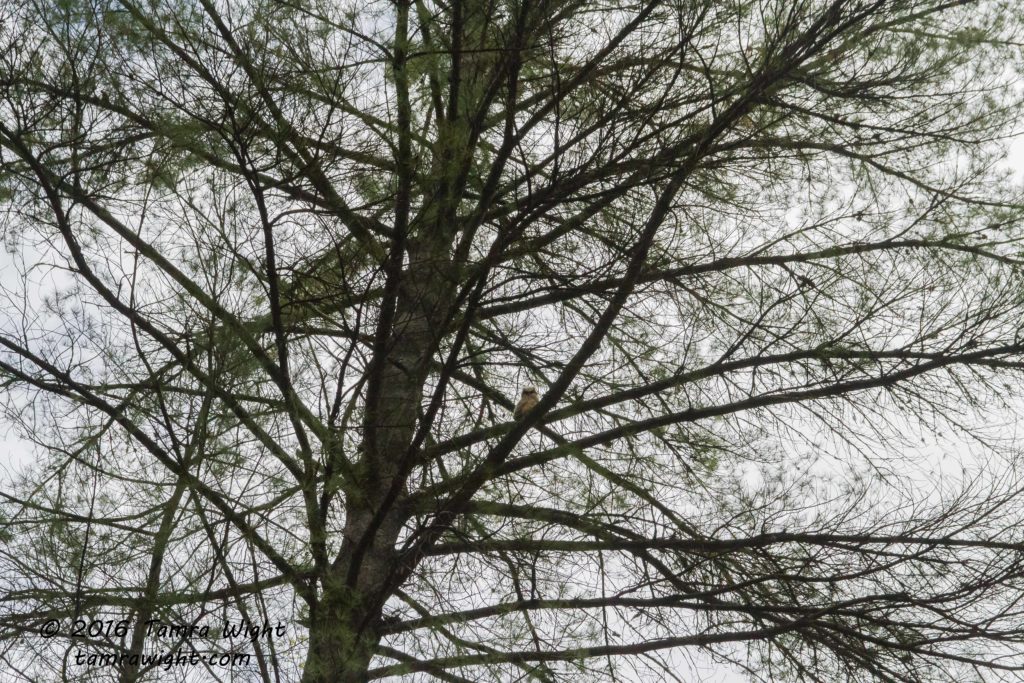 Tami went down Monday after school.
The little owl cleaned between his toes and slept an awful lot.
She went down Tuesday.
On Wednesday, Tami came home from school and grabbed her camera. Diane told her, she hadn't seen the owlet that morning.  But when Tami went down, it was there! Only on  a different branch.
Had it fledged and come back?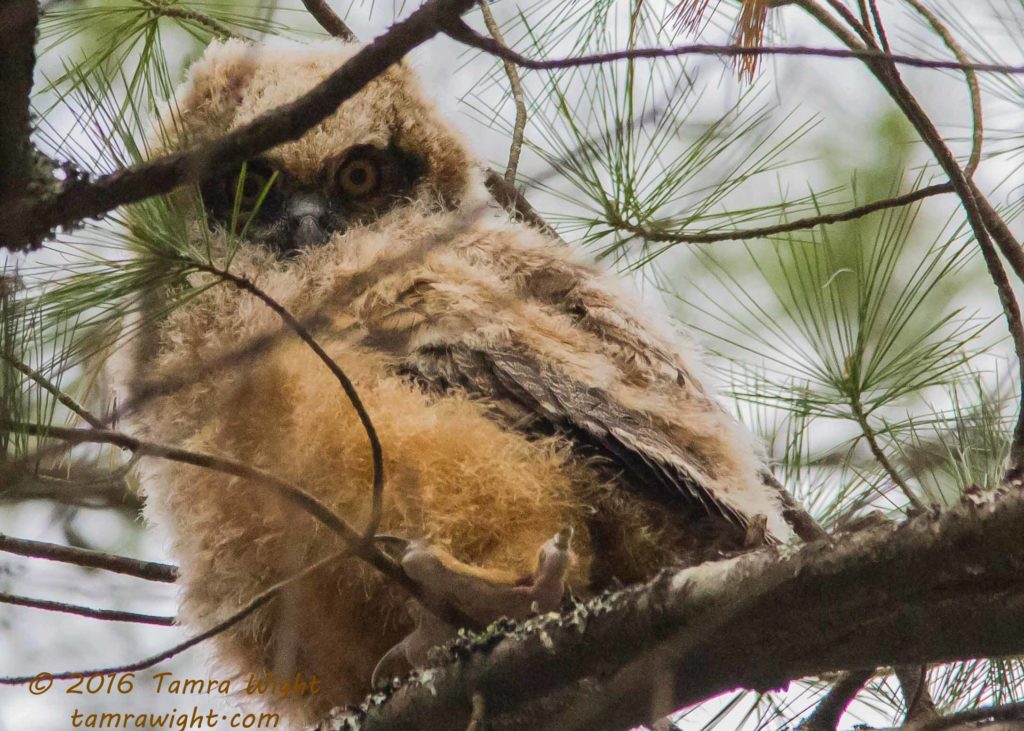 Tami took mega photos, and thank goodness she did. 'Cause on Thursday, the owlet wasn't there. Not on any of the branches.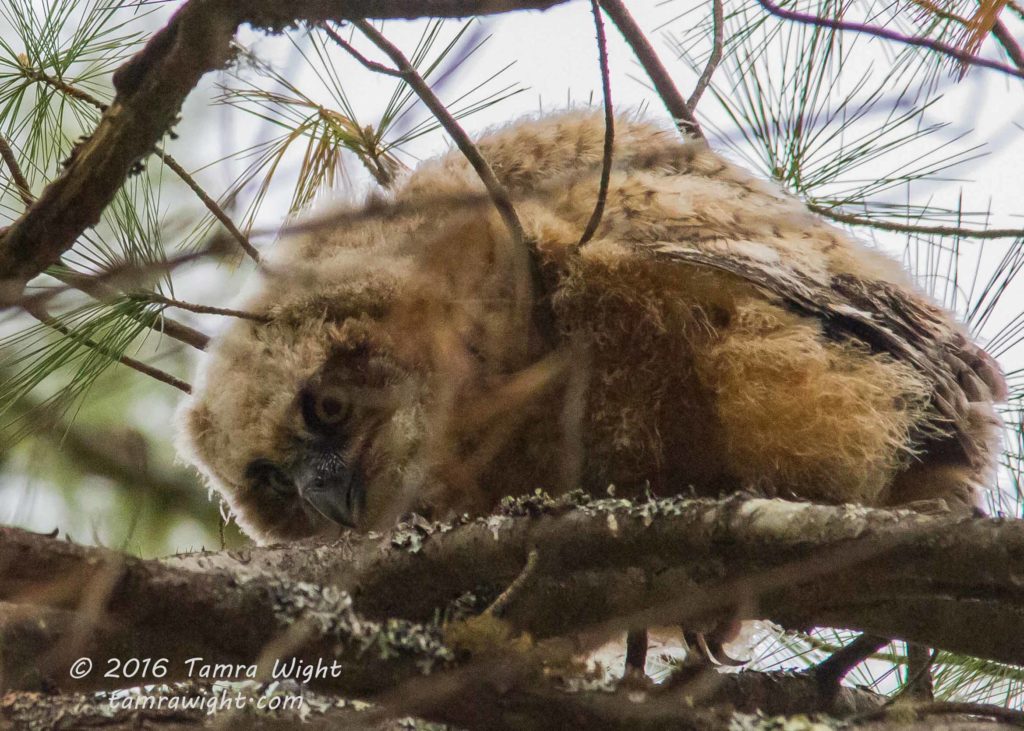 Again today, it wasn't there either.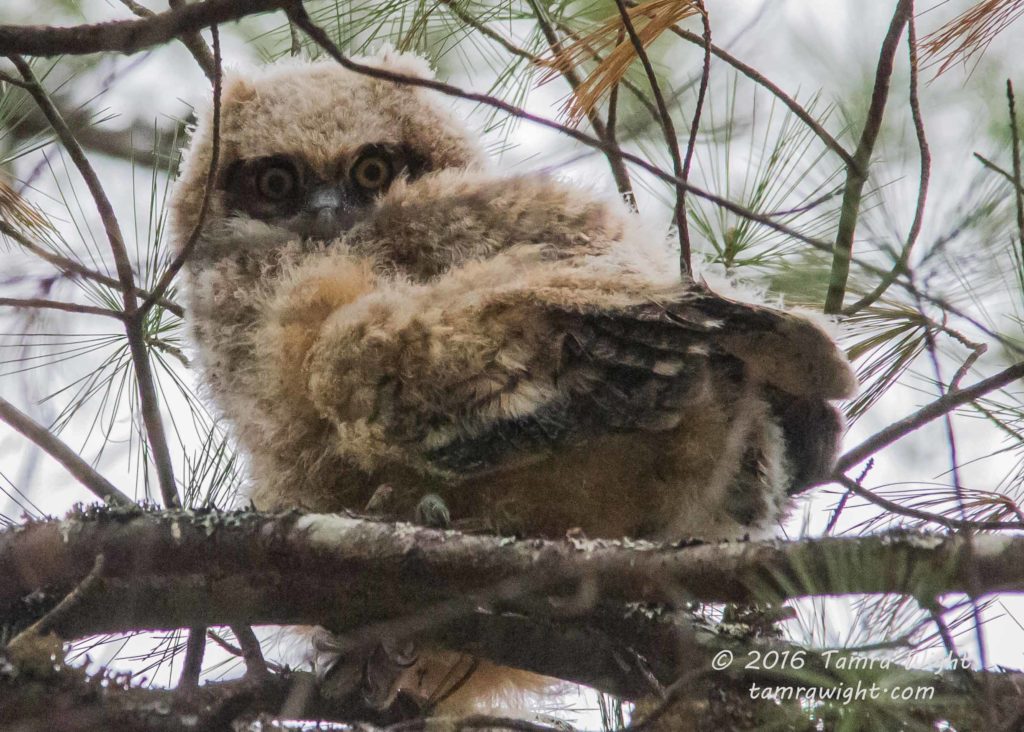 We never did see an adult all week, but we aren't worried. Tami's research says the adult is perched in a nearby tree, all part of the plan for this little one to take flight and hunt for itself.
(side note: owlets can eat 13-16 mice per night at just 3-4 weeks old!)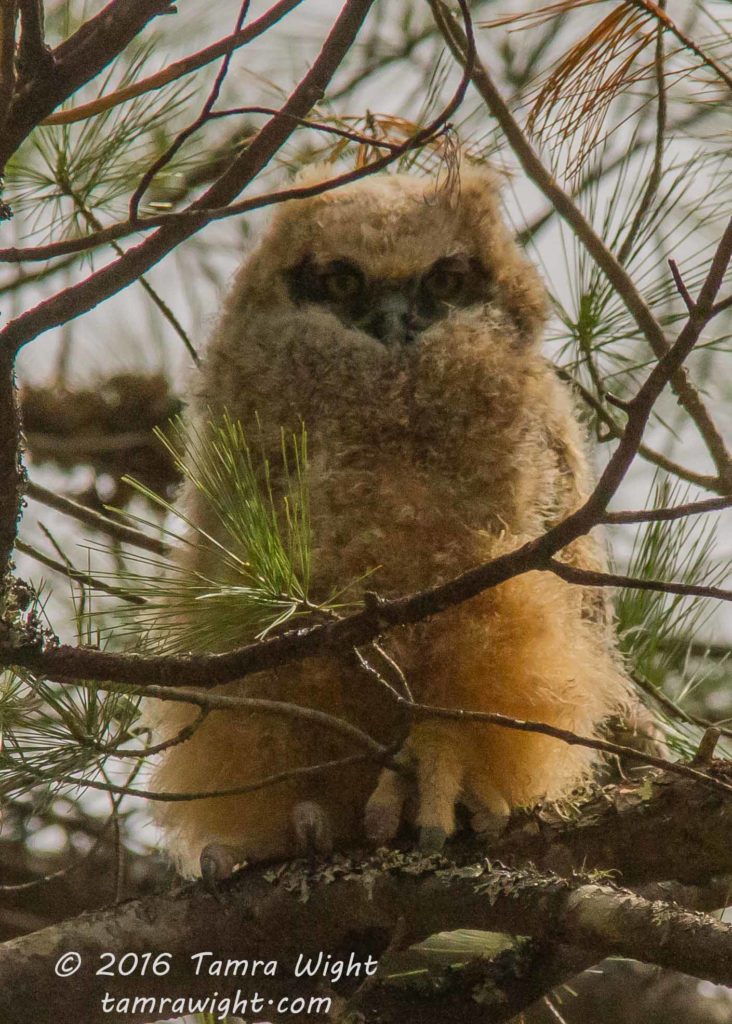 We're so happy to have had a chance to see these great raptors live and up close. I'm sure Tami is going to be walking and looking up for quite a while to come!