You should have seeeeeen all the kids who showed up for trick or treating!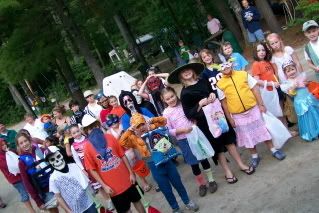 There were Barbie's, cowboys, ghouls, witches, fairies, super heros, goblins, ghosts, dancers, and more:
After trick or treating the kids and I went back to the store for a Halloween Party! We played all kinds of games like Pin The Nose on the Jack-o-lantern, Fishing for Spiders and a sponge toss
The line to put your face in the clown was just as long as the line to toss the sponges!
Here's Bryant showing off his favorite prizes
And look who I found wandering around the party . . .
The Burger King Man! Tami thought he was kind of creepy looking . . .but I said, "Gee Tami, have you looked in the mirror lately?
Then I ran away before she could yell at me!
Tami told these three they were a couple weekends too early:
I wonder if they'd let me borrow their costumes for Super Hero Weekend? I want to be
da-da-daaaaaah –
Suuuuu-per
Moose!'
(Psssst? Do Superman and Spiderman reeeeeeeally have orange vampire teeth? I've got to get me some of those!)
After the party Dave and his gathering of ghouls scared campers silly in the haunted house for just over an hour!! Tami and I could hear the screams from the office. We didn't exactly get pictures of that – we were kind of, sort of, hiding in the back room of the store. Maybe we'll be brave enough next Saturday 'cause we're doing Halloween all over again!
On Sunday afternoon, Bryant and Alex's Shakespeare in the Park troupe performed MacBeth. It was awesome!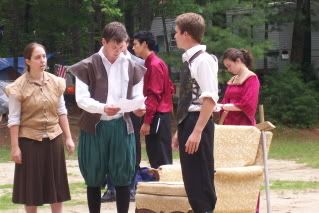 The final fight scene was so intense, Tami forgot to take pictures!!
We were really lucky to have them perform right in our own playing field. We hope they "break a leg" at their remaining performances in the Poland area . . .
I think I might try out for next year's troupe 'cause they look like they're having a lot of fun. Do you think they'll need a moose for Mid Summer Night's Dream?