Once again, Tami *thinks* she scored with her wildlife photos.
Not even close.
She said she was taking a quick walk to the lake to give Cookie some exercise.  Down and back, she said, 'cause she was supposed to work on creating a school visit presentation to go along with her new book, Cooper and Packrat that's coming out in August.
We trudged down, Tami telling me all the way how she hadn't see the eagles her last four trips to the lake.  When we got there, she sighed.  "No eagles again," she said sadly, pulling her scarf up over her mouth and nose.
"Yes there is!" I said.  You know, sometimes, that Tami is too quick to give up!!  I pointed out on the ice.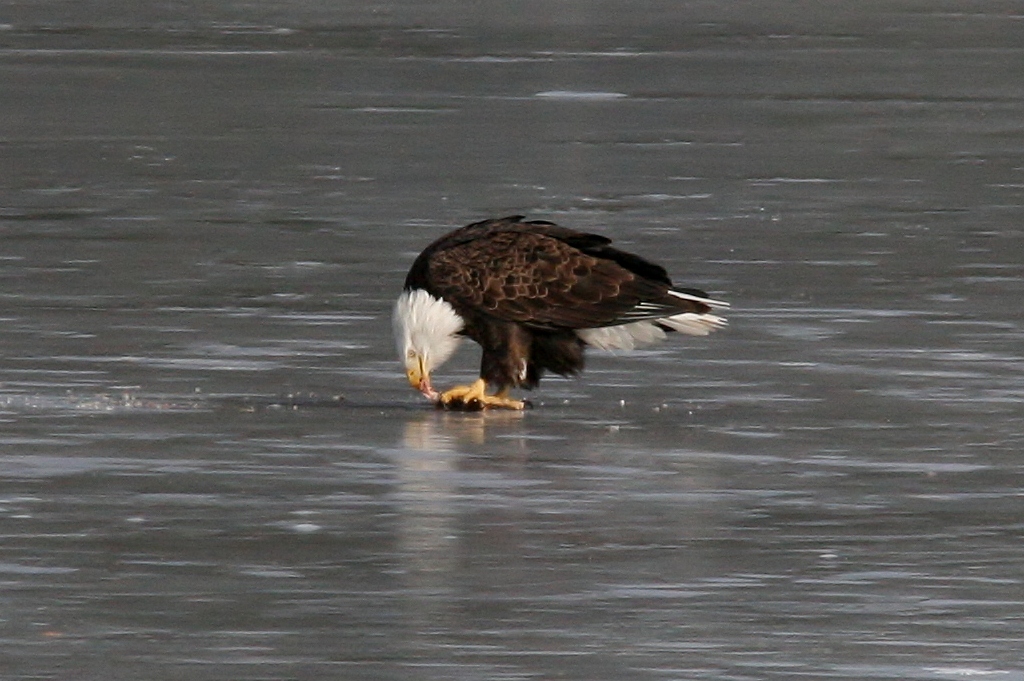 And Tami started clicking away!!!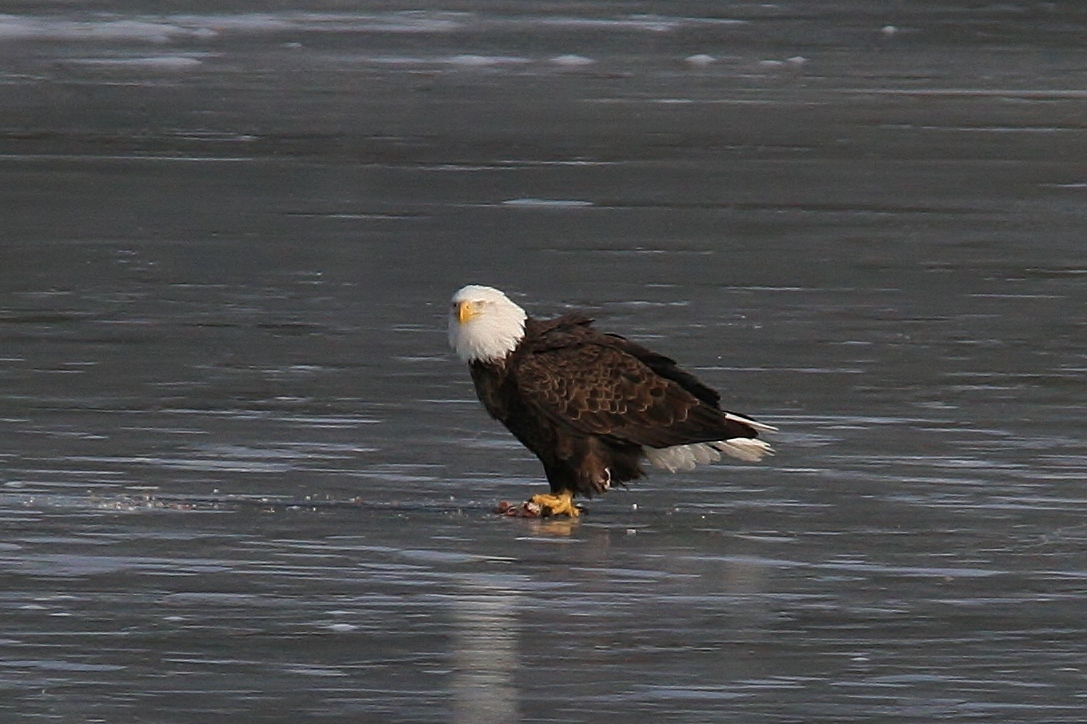 Tami oooohed and aaaaahed and talked about how handsome he was.  Give me a break!!  No eagle is as handsome as a moose.  And I wonder if she'd think he was so awesome if she knew he might have stolen that fish from a fisherman.  They're pretty sneaky, you know.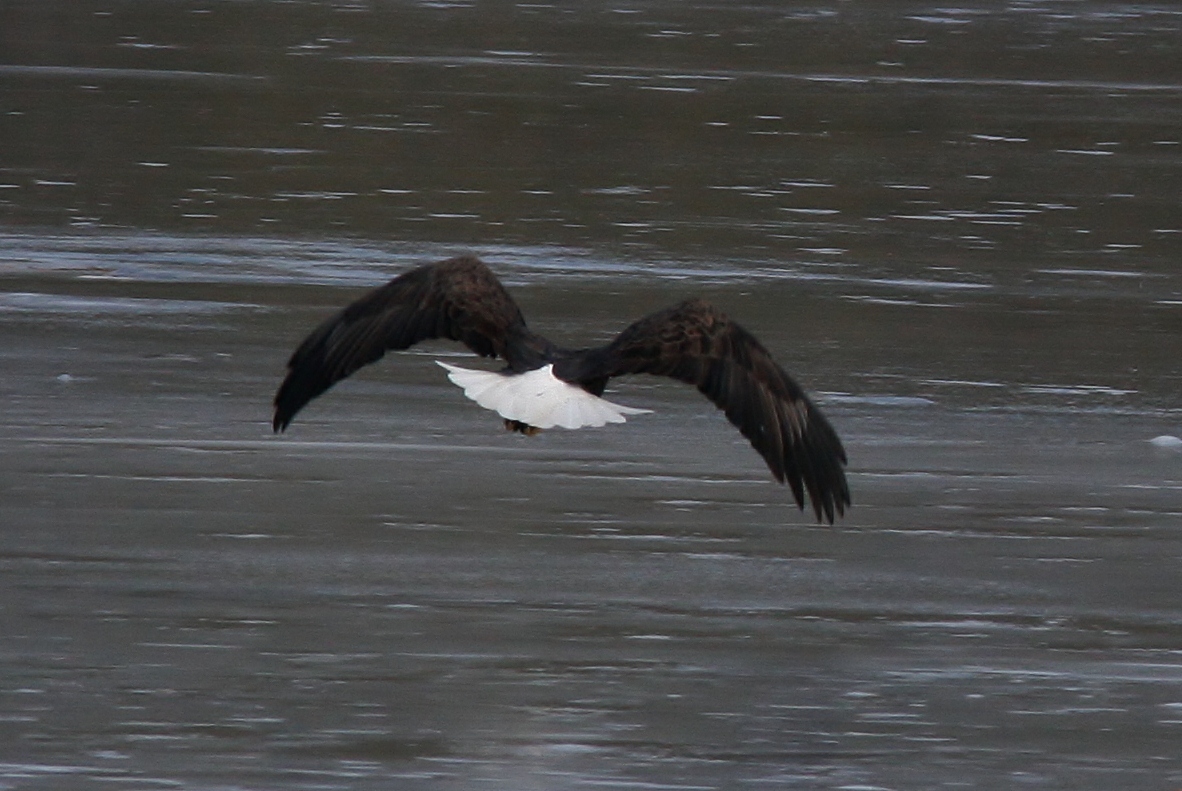 The eagle flew off, but Tami searched until she found him perched along the edge of the golf course.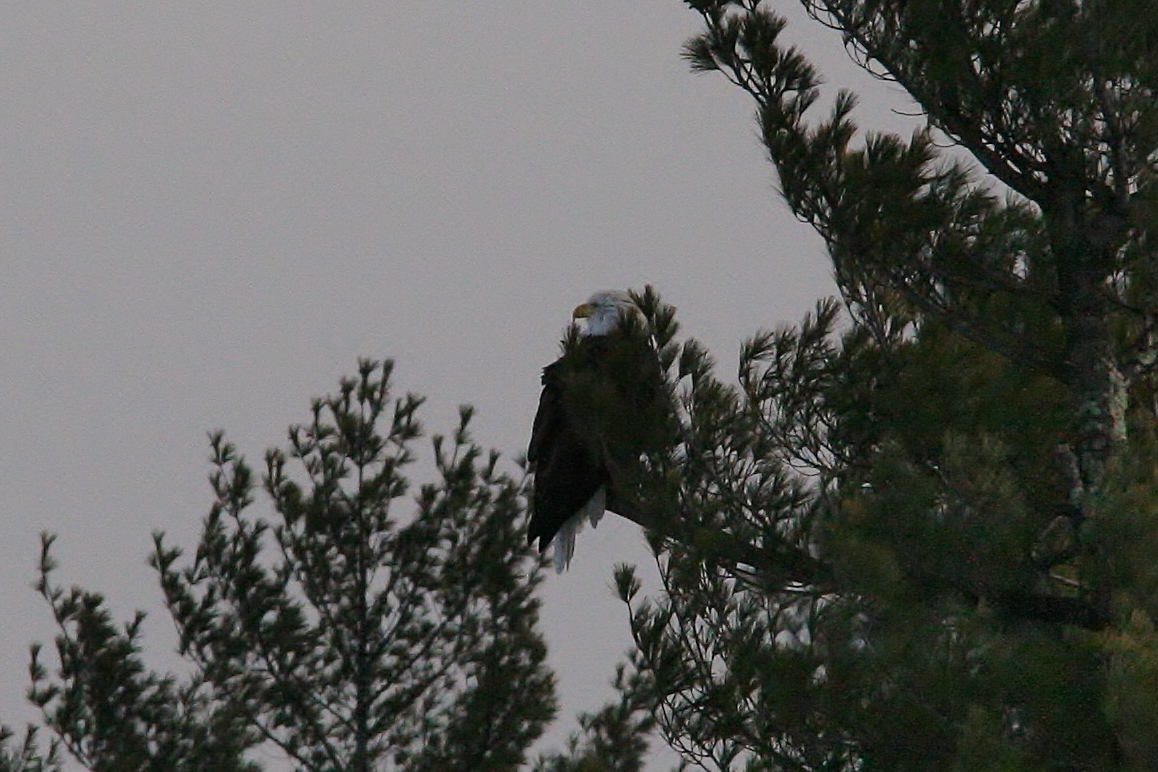 The wind was whipping down the lake across the ice, and the wind chill was ferocious.  My hooves  were so cold they were tingling, and I'm a moose!  Tami wanted to stay, but her hands were frozen solid too.  So we headed for home.  We were almost there when Tami changed her mind and decided get the card from her trail camera.
"You can go home though," she said.
"What and let you have all the fun!?" I teased.
We did take Cookie home though, because the trail camera is near where Tami put out deer food and a salt lick. It wouldn't do for her to get a whiff of that!
Tami let Cookie in the house and asked David to put on the coffee.  "We'll be right back."
When Tami got to the trail camera, she opened it to see there were six new photos.  "Hmmmmm," she said, putting in a new one and dropping the other in her pocket.  "Maybe we'll finally find out what's living in that den."  Then she turned to head deeper into the woods.
"Whoa!  Where are you going?" I asked. "Coffee's-"
"I want to check out the owl perch I found last week," she said.  "It'll only take a minute."
Poor David.  Tami just doesn't know what a *quick walk* is!  Especially when she she has her camera with her!
She took me there and you know, I think she's right. It's an owl perch.  The base of the tree is littered with 1 inch long, smooth, oval shaped pellets.  And there's thousands of them!  All around the tree. But no owls were roosting there, or anywhere I could see.
"Coffee?" I reminded her.
"Yeah," she said.
But just as we stepped out of the woods and into the circle of campsites, we heard crazy chickadee calls. Lots of them.  Right off the back of site 126.  I tried to see what was going on, and just as I caught sight of him, he took to flight!  A large, silent, gray swoop between the trees up toward the main road of the campground.
We followed slowly, cringing every time our boots and hooves crunched in the snow.
And then Tami pointed to it  . . .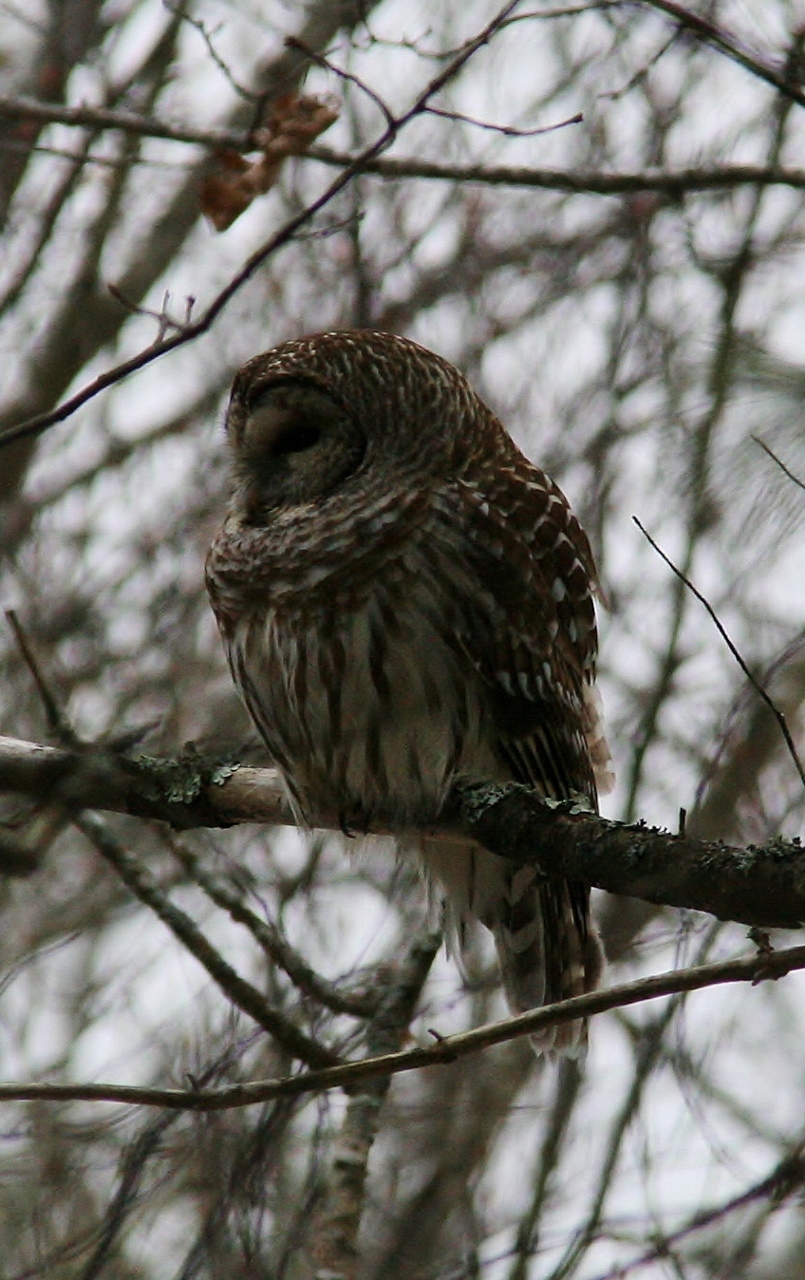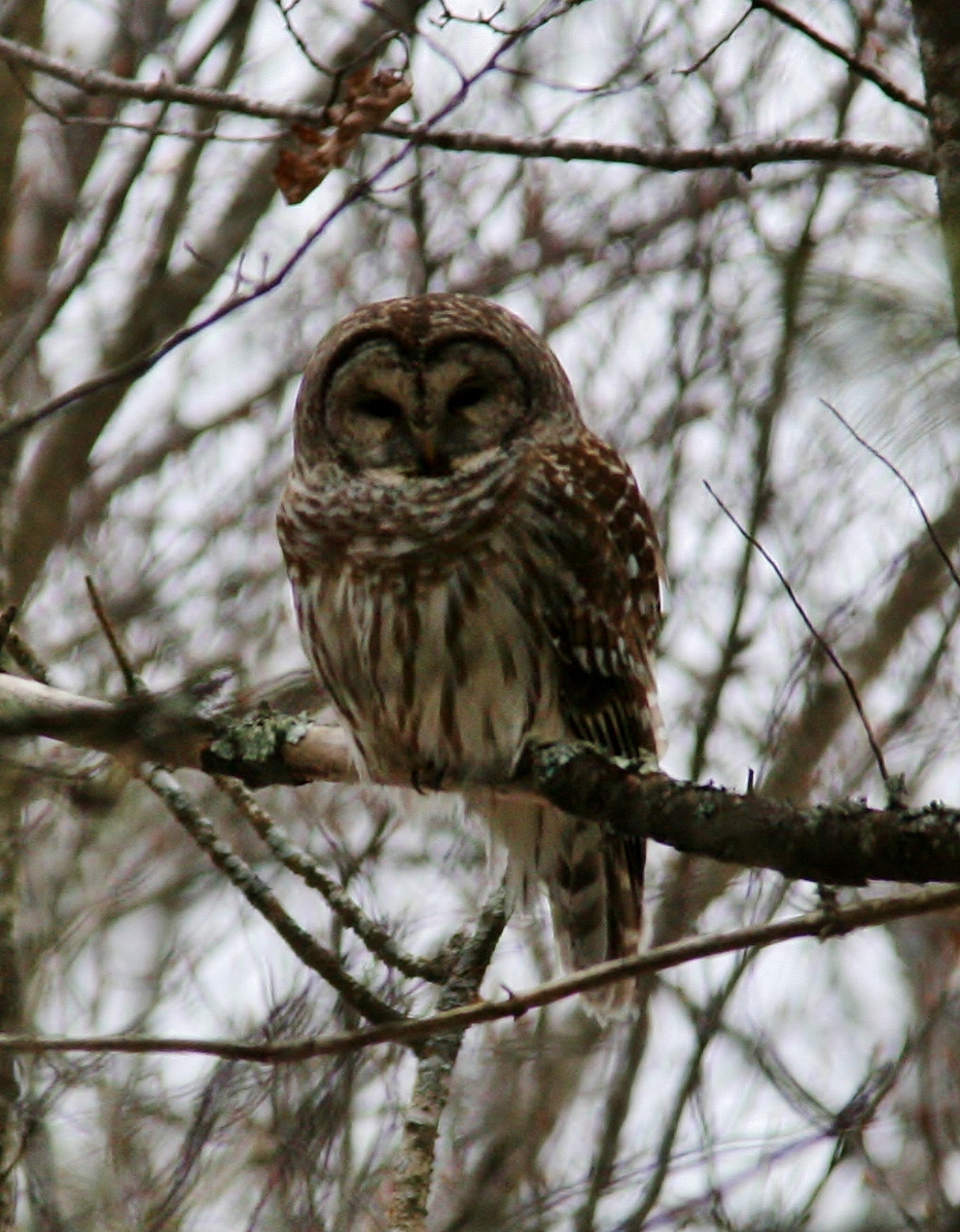 Isn't he gorgeous!!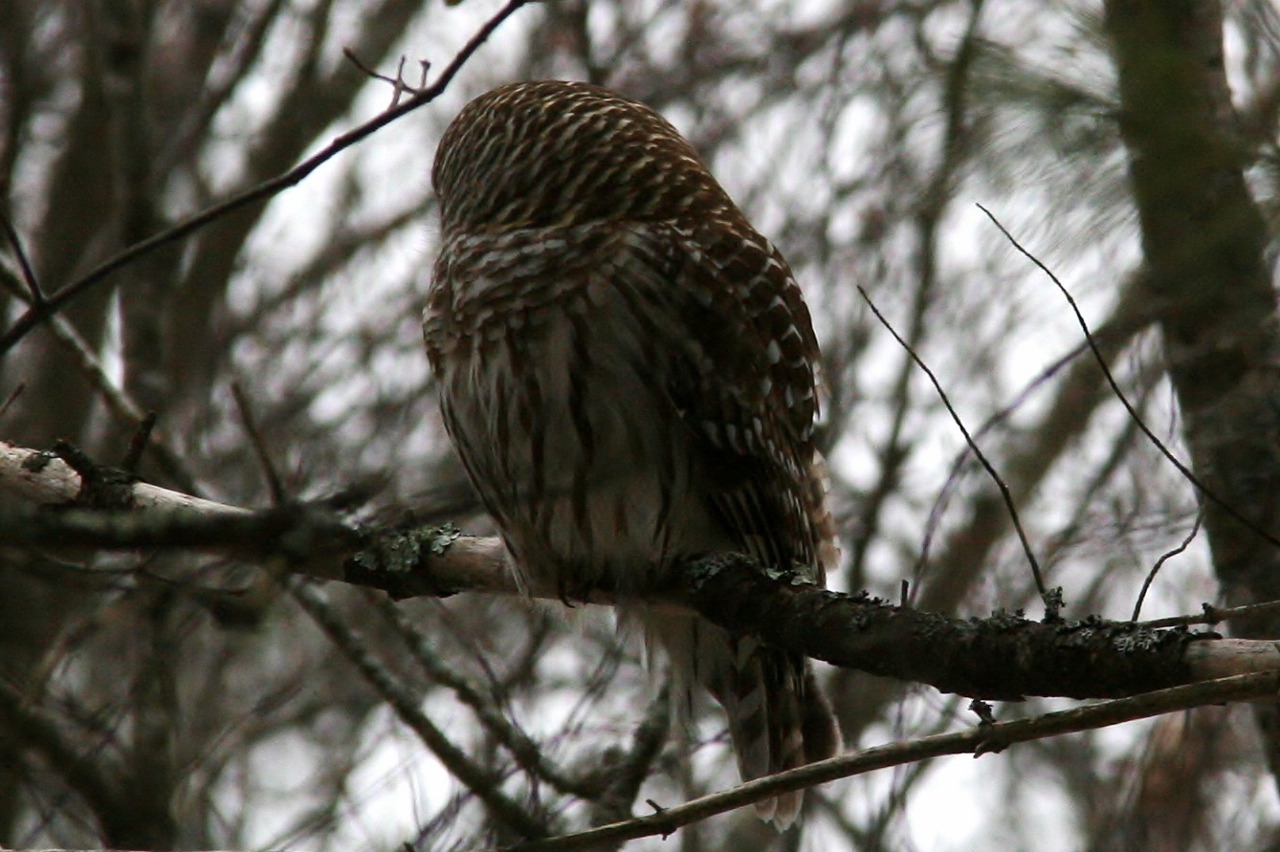 Tami met David at the house door with a huge grin!  She must have taken forty pictures!
While she sipped coffee and told David of our travels, I popped the trail camera card into my laptop.  To my surprise, this is what I found . . .
Here's the den we've been watching.  Tami think it's home to a fisher . . . or that's what past photos, (not very clear because the camera was further away) have hinted at.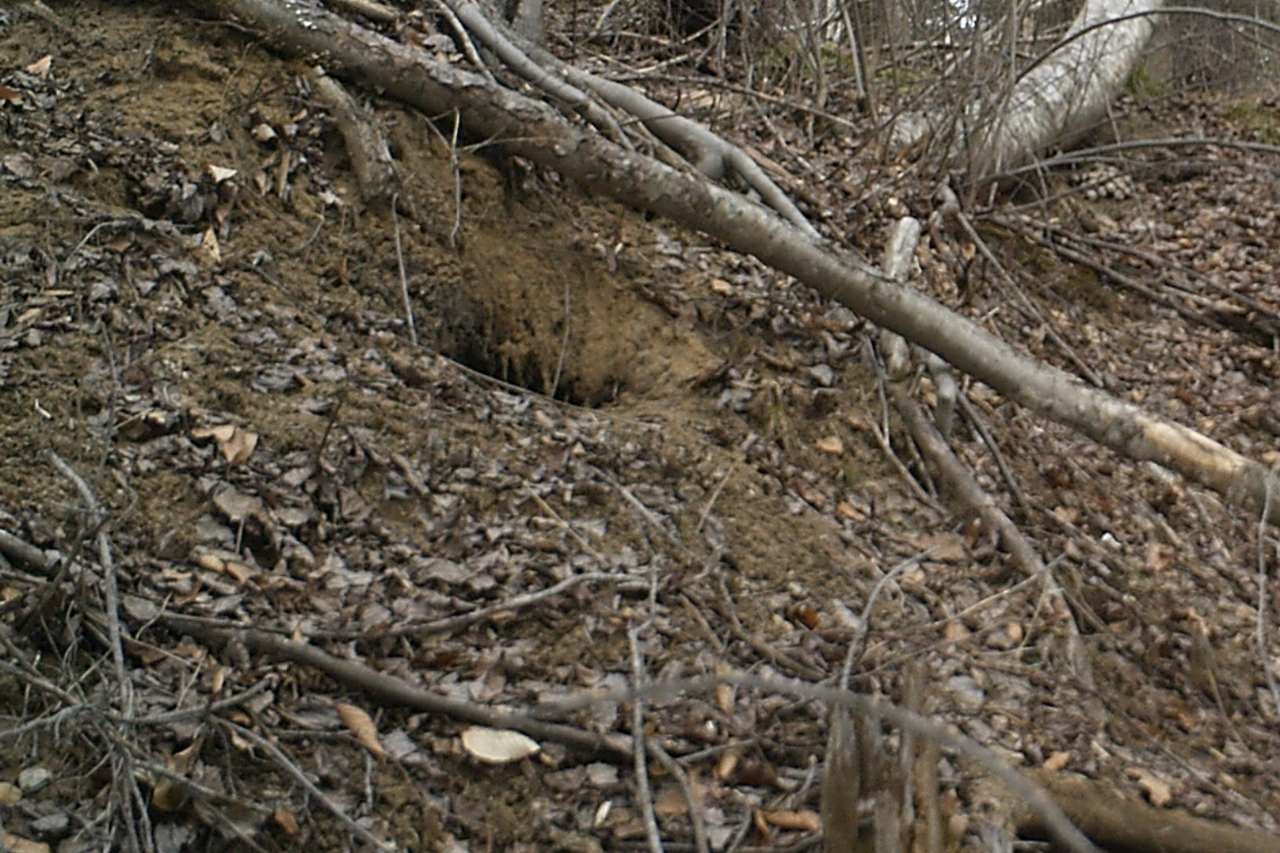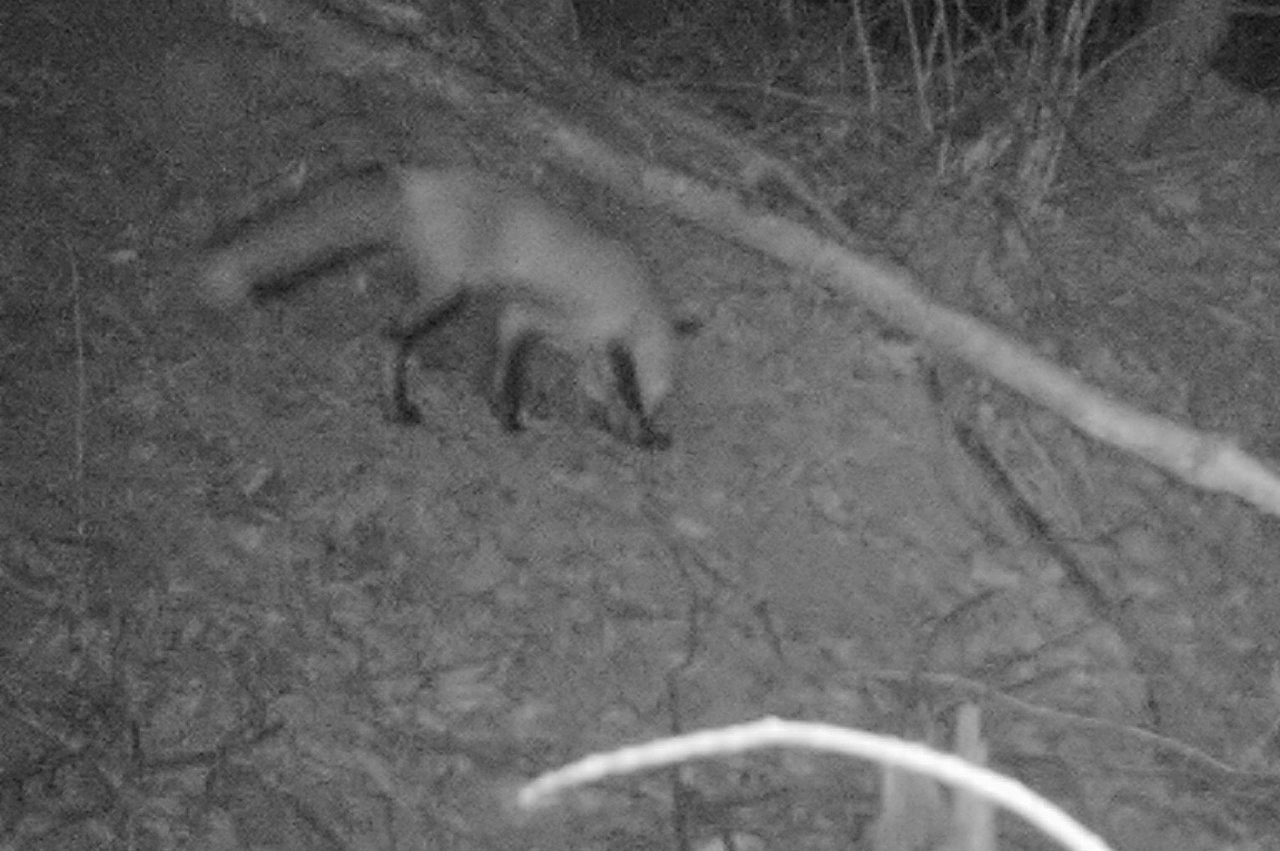 Obviously, this fox is interested in the den too!  There's six photos total of him around the hole, but not going in.  I think he's stalking whatever lives there.  Tami left the camera in place, and time will tell.
You know, even with all these photos . . . and with Tami finally capturing the owl . . . she just doesn't realize she's already taken the perfect wildlife photo!  She doesn't have to search any more!
Sheesh!  Doesn't she know who the star of the campground is?